We are the only carrier class network building a new 100% pure AirFiber infrastructure in Canada
Locally Owned
We live and work in the very communities we service
As a result we have a strong commitment
to provide the best quality 
internet along with outstanding customer service
We hire local, right from our
communities thus helping to boost the economy
No Contracts
Thats right ! No Contracts
We know our Rural Internet and Customer Service are amazing,
and we don't have to trap you
into a contract and then
offer sub par Internet that  
you can't get out of !

"Our exceptional service
and super fast speeds are our contract"
Reliable
We maintain a Service Level Agreement of 99.999% uptime guarantee throughout
our network.
AirFiber uses the best technology and top tier backend providers
for a fast connection.

All our speeds are guaranteed to be at least  85% of
offered speeds in our plans


No Bundles
Our focus is 100% to bring you
the best Quality internet
available to your Rural home.
We won't make you sign up for services you don't want just
to get a better rate!
Our rates are straight-forward
and simply priced plans for
all Internet needs



"We are the only carrier
class network building a new 


100% 

pure AirFiber 
infrastructure in
Alberta and Canada"
In order to provide the fastest, most reliable Rural Internet access
available, we've built an intelligent and redundant high-performance network from the ground up. 
We offer complete diversity from LTE, Fiber Optic Cable, and Satellite Internet providers to connect rural communities fast.
From installation to technical support, everything we do is 
completely owned, operated and managed by us – no outsourcing.

AirFiber Alberta's mission is to provide our rural customers with Internet  services at speeds faster than LTE, Fiber Optic cable, and satellite— with lower costs, higher reliability, and greater mobility.

Our entire network is above ground and provides a true alternative to 
Fiber Optic cable and the archaic LTE and satellite providers.
As an independent private network, we are not reliant on other companies to deliver the service to you as we use our own systems to deliver what you need. 
We provide internet services to BOTH commercial and private clients in rural locations. We do not face the same speed restrictions in rural and urban areas that many other providers battle against or charge much more for.
Our AirFiber Alberta network can offer a high-speed connection to clients when even the traditional providers struggle.
Our latest technology wireless systems can offer speeds, in many cases well above internet speeds offered by any traditional provider in main city centers.
With demand for internet services in many areas including Rural Alberta and all parts of Canada at an all-time high and only expected to continue to increase, we will continue to expand our network to offer the largest coverage of any rural internet provider. 
Our goal is to continually expand our service in as many areas as possible to provide the best possible service to our clients.
The AirFiber network offers truly diverse paths, unaffected by vulnerabilities. We maintain a service level agreement of 99.999% uptime.
AirFiber Alberta point-to-point redundant network is built to re-route traffic if necessary – reaching your location from multiple network centers.
AirFiber Internet service does not fade out in rain/snow storms, or on cloudy days. During EXTREME weather, as with any service, you may experience temporary outages, usually due to power outages.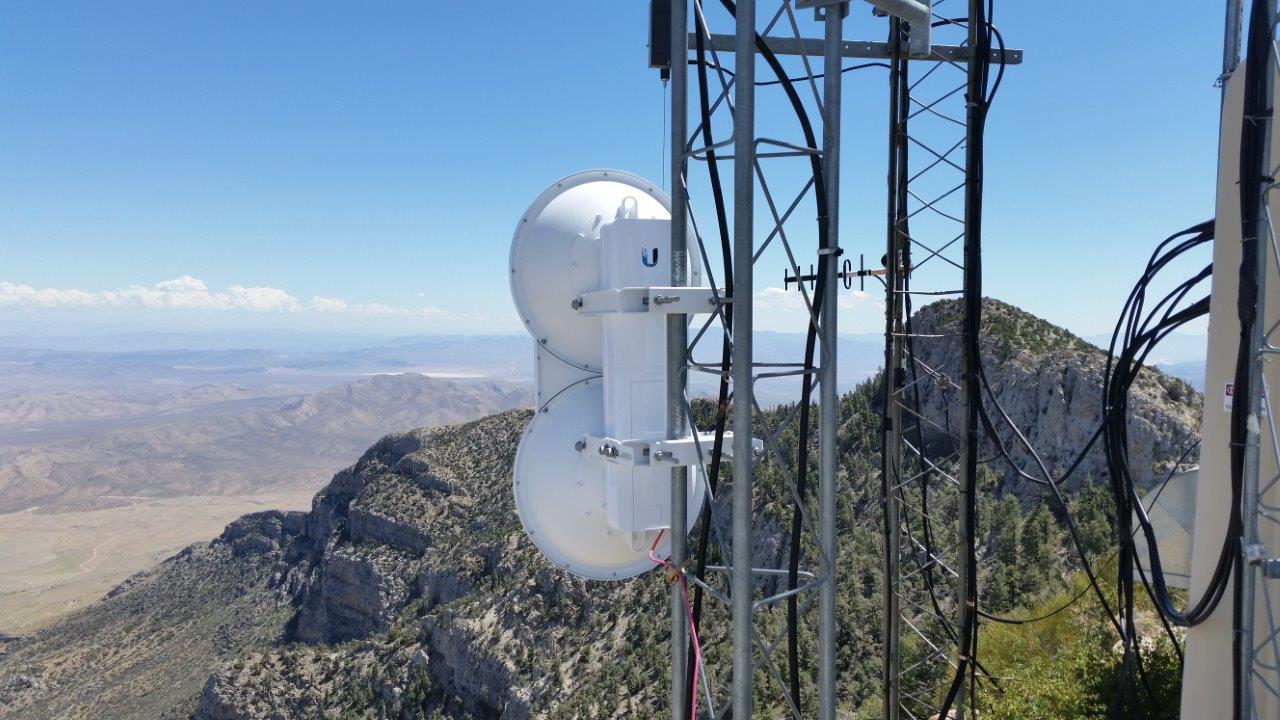 "We provide ultra-low latency (ping) connections, which is one of the key factors in delivering fast internet – speed is one thing, latency is another"
Lower Latency: More hops in optical networks lead to more processing latency and noise. A fiber optic network encompassing a rural community has to traverse more points than AirFiber to arrive at the final point.

The reduced number of hops in our network lowers end-to-end latency. Even a gain of a couple of milliseconds can add up to a sizeable advantage for customers and deliver a better internet experience with lower latency when compared to fiber, LTE and Satellite internet providers.
Our latencies typically range from 3-8ms in rural areas, compared to 100ms-670ms of the current ISP providers.

While most current providers use a contention ratio of up to 50:1, ours are no more than 5:1. This means that there are far fewer people using the same service as you. Due to low latencies, our smallest 4 Mb/s upload plans 'feel' like urban ADSL speeds. 
Book your installation.
To Book your installation please fill out the form below.
After your form has been submitted we will contact you to set up a date for installation.
We are so excited to bring this internet service to DeWinton and the MD of Foothills #31 and we look
forward to providing you the fastest and most reliable Rural internet in Canada.
-AirFiber Alberta Team